In the second week of Advent (9-11 December) the language diversity team visited the German-Danish border region.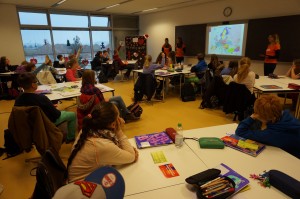 The schedule consisted of giving lessons in both Northern Schleswig (Denmark) and Southern Schleswig (Germany). We were at the German school of Osterhoist in Denmark, to raise interest among the students for languages, but also for Christmas traditions of minorities in Europe. We also visited the A.P. Møller school in the town of Schleswig in Germany. Both in Osterhoist and in Schleswig the school students told us about their Christmas traditions and specialties and they were very interested in receiving our multilingual postcards. At Flensburg University we presented our language campaign and our experiences in regard to visualising language and literature. We had a discussion with the students, who mainly study to become teachers, about minority and language policy in the different countries in Europe.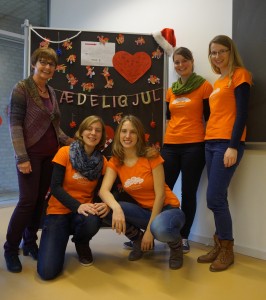 We thank Frauke Ploen and Jørgen Kühl for their interesting tour of the AP Møller school, which was built only 5 years ago, we thank Anke Tästensen for her warm welcome to the small village school and we thank Prof Dr Thomas Steensen for his warm welcome and for the North Frisian gifts!
Our visit in the border region was completed with a Christmas dinner together with the FUEN staff and other partners.
We look forward to continue our cooperation also in the coming year!