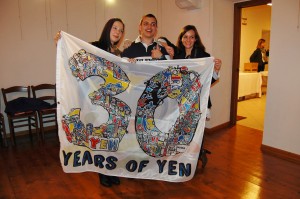 Right during the carnival period, from 26 February until 2 March, the Slovenian minority youth organisation MOSP from Italy invited everyone to come to the Youth Leader Committee meeting of YEN in Basovizza, near Trieste. Language diversity is also there, because YEN is one of the partners of our campaign. The theme of the seminar is "30 years' kick-off", because it is the first event of the 30th anniversary year of YEN. Youth from various minorities and countries of Europe came together to work together on a "White Paper on Minority Rights". This is a strategy paper that looks back at 30 years of YEN and minority rights history and that compares the situation of back then with the challenges that young people belonging to the European minorities are facing today. During the kick-off meeting the fundaments of this White Paper will be laid down and in working groups its subjects will be selected. Also one chapter in the White Paper will be dedicated to the subject of languages.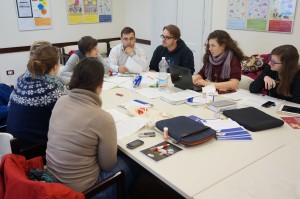 The language diversity team used the opportunity of having so many multilingual youth together to recruit the YEN-members as multipliers for MiLaS. MiLaS – that is our Minority-Language-Slam, which is about to start. The YEN-members will strongly advertise the participation in MiLaS in their home regions and they even made a short video already!
At the official opening, the language diversity campaign had the chance to present itself to representatives of the Slovenian minority in Italy. The region around Trieste, Gorizia and Udine, where this minority is living, is close to the border with Slovenia and has always been the place where the three largest language families of Europe meet: the Romance languages, the Slavic languages and the Germanic languages. The Slovenian minority in Italy has between 60 000 to 90 000 speakers and is represented by two umbrella organisations, the Slovene Cultural and Economic Union (SKGZ) und die Confederation of Slovene Organisations (SSO).