From 11 till 14 July, the region Lusatia in Germany celebrated the tenth International Folklore Festival Lausitz/Łužica with music, dance and languages from around the world. For four days, several folklore groups from 9 countries, among them Sorbian ensembles from the region itself and also members of autochthonous minorities, presented their traditional dances, instruments, songs and costumes to an audience of 18,000 people. The guests that had the longest journey came from Canada, Russia and Australia.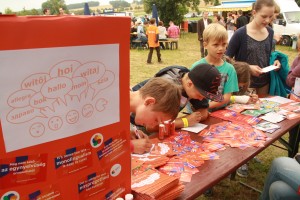 The language diversity team made sure that next to the colourful dances also enough attention was paid to linguistic diversity – we came with a post office, from which everybody had the opportunity to send multilingual greetings home from Lusatia. This action and the colourful language diversity smarties were very popular, especially among children. With the help of a quiz we tested the knowledge of visitors about linguistic diversity. For the people who were not able to tell how many languages there are in the world and which language is among the oldest in Europe, we had an information-flyer with facts on linguistic diversity and the benefits of multilingualism.
During the grand parade in Crostwitz/Chrósćicy on Sunday the participants of the parade were welcomed with an illuminated "Hello" in more than 20 languages. School students from Crostwitz/Chrósćicy in a language diversity T-shirt guided the folklore groups. At the grand final of the folklore programme the language diversity team, supported by Sorbian school students from Lusatia, sent 450 colourful balloons flying, as a symbol for diversity.